Quebec, which had one of the lowest provincial infection rates during much of the fall, now has the third-highest, federal statistics show.
Updated throughout the day on Friday, Nov. 26. Questions/comments: ariga@postmedia.com
I'll be back on Monday morning with another live blog.
In the meantime, you can follow all our coverage via the coronavirus page.
My previous COVID-19 live blogs are available here.
From the Reuters news agency:
Shares tumbled on Wall Street on Friday as they reopened after Thanksgiving, while European stocks saw their biggest sell-off in 17 months and oil prices plunged by $10 per barrel as fears over a new coronavirus variant sent investors scurrying to safe-haven assets.
The World Health Organization (WHO) on Friday designated a new COVID-19 variant detected in South Africa with a large number of mutations as being "of concern," the fifth variant to be given the designation.
Unofficially, the Dow Jones Industrial Average closed down 2.53 per cent, its largest percentage drop in more than a year. The S&P 500 lost 2.27 per cent, its worst one-day drop since Feb. 25, and the Nasdaq Composite dropped 2.23 per cent, the biggest one-day route in two months.
U.S. markets closed early on Friday after being shut all day on Thursday for the Thanksgiving holiday.
The benchmark STOXX 600 index ended 3.7 per cent lower on the day, leaving it down 4.5 per cent for the week. The volatility gauge for the main stock market hit its highest in nearly 10 months.
Companies that had benefited from an easing of COVID-related restrictions this year, including AMC Entertainment, plane engine maker Rolls Royce, easyJet, United Airlines and Carnival Corp all fell.
Retailers dropped as Black Friday, the start of the holiday shopping season, kicked off as the new variant fueled concerns about low store traffic and inventory issues.
In Europe, the travel and leisure index plummeted 8.8 per cent in its worst day since the COVID-19 shock sell-off in March 2020.
"Bottom line is this is showing that COVID is still the investor narrative, a lot of today's movement is driven by the South African variant," said Greg Bassuk, chief executive officer of AXS Investments in Port Chester, New York.
"We have been talking about four or five factors that have been driving the last couple of months' activity – inflation fears, some economic data, Fed policy – but what we have seen over the last year is that big developments with respect to COVID really have ended up eclipsing some of those other factors by a substantial degree and that is what is driving today's market activity."
Two cases of the new COVID-19 strain raising alarm in parts of southern Africa and unnerving financial markets worldwide have been found in travellers in compulsory quarantine in Hong Kong.
A traveller from South Africa was found to have the variant — B.1.1.529, dubbed Omicron — while the other case was identified in a person who had travelled from Canada and was quarantined in the hotel room opposite his, the Hong Kong government said late Thursday.
Read our full story.
Twenty months after the pandemic began, it is nearly impossible to be in a restaurant and make small talk with those seated at the table next to yours. Protective sheets of acrylic or plastic are now creating a social divide in nearly every restaurant, store, medical office and other businesses.
But now, one of the top advisors on the Ontario COVID-19 Science Advisory Table is saying the dividers may be ineffective — and even counterproductive.
Read our full story.
From the Reuters news agency:
The United States will bar entry to most travellers from eight southern African countries beginning next week over concerns about a new coronavirus variant found in South Africa, President Joe Biden said on Friday.
The restrictions, which go into effect Monday, do not ban flights or apply to U.S. citizens and lawful U.S. permanent residents, a Biden administration official said.
The U.S. is among countries around the world that rushed to suspend travel from southern Africa on news over the new variant, named omicron, which the World Health Organization said was "of concern."
The restrictions apply to South Africa, Botswana, Zimbabwe, Namibia, Lesotho, Eswatini, Mozambique and Malawi. Most non-U.S. citizens who have been in those countries within the prior 14 days will not be allowed into the United States.
"As a precautionary measure until we have more information, I am ordering additional air travel restrictions from South Africa and seven other countries," Biden said in a statement. "These new restrictions will take effect on November 29. As we move forward, we will continue to be guided by what the science and my medical team advise."
Another administration official warned that the United States could add countries to the restriction list if the variant spreads.
Delta Air Lines and United Airlines both fly to South Africa and United is set to resume nonstop flights from Newark to Cape Town on Dec. 1. Shares of both airlines closed down more than 8 per cent Friday.
Health Minister Christian Dubé says Quebec is closely monitoring the situation regarding a new variant first detected in South Africa.
"This shows us that the pandemic isn't over," Dubé said via Twitter.
"As we learn to live with the virus, we must continue to respect the measures in force and get vaccinated."
A new variant of concern – first detected in South Africa and designated Omicron by the World Health Organization – is sparking fears around the world
Speaking at a federal briefing this afternoon, Health Minister Jean-Yves Duclos announced a series of new travel restrictions "to protect the health and security of Canadians."
At a federal briefing in Ottawa, Duclos said:
There are currently no direct flights to Canada from this region.
Theresa Tam, Canada's chief public health officer, said provincial labs across Canada have been alerted to Omicron and have "searched for possible detections. To date, there are no indications of the variant's presence in Canada."
Tam said Omicron "is considered unusual in that it has a very high number of mutations in two key areas of the virus's spike protein."
Early indications suggest it could be more transmissible and could affect "the body's natural immunity as well as potentially reduce immunity offered by vaccines."
That's why "we are concerned about this new variant and are closely monitoring the evolving situation," Tam said.
Today we are banning entry for foreign nationals that have travelled to Southern Africa in the last 14 days. We will also make testing mandatory on all Canadians entering into Canada and having travelled to Southern Africa in the last 14 days. 2/2
A reporter asked Duclos how worried should Canadians be about the new variant
"I think Canadians should be prudent as they've been for many months," the minister responded.
He said compared to people in some other countries, Canadians have largely followed public health advice and are getting vaccinated in large numbers.
"So let's keep the good things that we have been doing. That is not only protecting us from the current viral environment but also from what new variants and this variant could bring as challenges to our country."
He urged Canadians who have not been vaccinated to do so, noting about three million people 12 years and older have not received a single vaccine dose.
Transport Minister Omar Alghabra said the latest variant scare illustrates why Canada needs to keep testing requirements at borders despite pressure from some elected officials and business leaders who want them lifted.
"This is a reminder of why we need to be cautious, why vaccines are important, why we have been implementing vaccine mandates in different sectors, and why we've been requiring travellers to be vaccinated," he said.
"This is another reminder of how serious a situation we're in today and how cautious we all need to be."
The World Health Organization (WHO) on Friday designated a new COVID-19 variant detected in South Africa with a large number of mutations as being "of concern," the fifth variant to be given the designation.
The WHO said in a statement that it had assigned the B.1.1.529 variant the Greek letter Omicron.
Here's what the Technical Advisory Group on SARS-CoV-2 Virus Evolution says about Omicron:
The Technical Advisory Group on SARS-CoV-2 Virus Evolution met today to review what is known about the #COVID19 variant B.1.1.529.
They advised WHO that it should be designated a Variant of Concern.
WHO has named it Omicron, in line with naming protocols https://t.co/bSbVas9yds pic.twitter.com/Gev1zIt1Ek
Colleague René Bruemmer was at a press conference with Premier François Legault earlier.
Here's what he reports:
Quebec Premier François Legault joined his voice with that of other premiers on Friday, saying his government has asked Ottawa to tighten border restrictions and trace any passengers who have been in countries where a new variant has been found.
"There are already cases identified in Belgium," he said. "We are very concerned."
On the recent surge in cases in Quebec, Legault said the number of hospitalizations in the province remains stable, at about 200, which is a good sign.
Quebec's hospitalization rate is five times less than that of the United States, he said.
There is no word on new restrictions at this time, Legault said, adding that the government will be announcing its plan on how to manage the holiday season "in the coming weeks."
From The Canadian Press:
The World Health Organization will meet Friday to discuss variant B.1.1.529, which originated in South Africa.
There are no direct flights from South Africa to Canada.
Health Minister Jean-Yves Duclos and Transport Minister Omar Alghabra are expected to hold a news conference with Canada's chief public health officer Friday afternoon to discuss the new variant.
"We are currently in discussions in monitoring what's happening and discussions about what measures we can implement," Alghabra told reporters Friday.
Canada currently requires a negative molecular COVID-19 test to enter the country, even for fully vaccinated travellers. As of Tuesday, all travellers will need to have two doses of a WHO-approved vaccine to travel to or within Canada.
Not much is known about the new variant, according to the WHO's COVID-19 technical lead Dr. Maria Van Kerkhove.
"Researchers are getting together to understand where these mutations are, and what that potentially may mean for our diagnostics or therapeutics in our vaccines," she said at a briefing Thursday.
The WHO's team will discern whether the variant should be considered a threat, and therefore a variant of concern.
Quebec Premier Francois Legault says they have asked federal government to consider banning flights from South Africa given rise of new variant. "It is already in Belgium. We are very concerned." #polmtl #covid pic.twitter.com/1AZ4xS1svt
Le #BlocQc demande au gouvernement de suspendre rapidement les vols de passagers commerciaux et privés en provenance de l'Afrique du Sud et des pays d'Afrique australe, de façon préventive et temporaire, jusqu'à ce qu'on ait davantage de détails sur le variant B.1.1.529. ❌✈️😷 pic.twitter.com/FB1kI9xvB2
Sans verser dans l'alarmisme, et malgré les réticences des autorités internationales à cet effet, il semble sage de restreindre les vols de certaines origines pour réduire la propagation au Québec et au Canada de la nouvelle mutation identifiée en Afrique-du-Sud de la COVID.
From the Reuters and Bloomberg news agencies:
European Union states have agreed to suspend travel to southern Africa after the detection of a new COVID-19 variant, the presidency of the EU said on Friday.
A committee of health experts from all 27 EU states "agreed on the need to activate the #emergency break & impose temporary restriction on all travel into EU from southern Africa," the Slovenian presidency of the EU said on Twitter.
An EU source told the Reuters news agency the restrictions would apply to South Africa, Botswana, Eswatini, Lesotho, Mozambique, Namibia and Zimbabwe.
South Africa's Health Minister Joe Phaahla said new travel bans imposed on the country after the discovery of a new COVID strain, particularly by the EU, were "unjustified."
The moves "are completely against the norms and standards" advised by the World Health Organization, Phaahla said during an online press conference.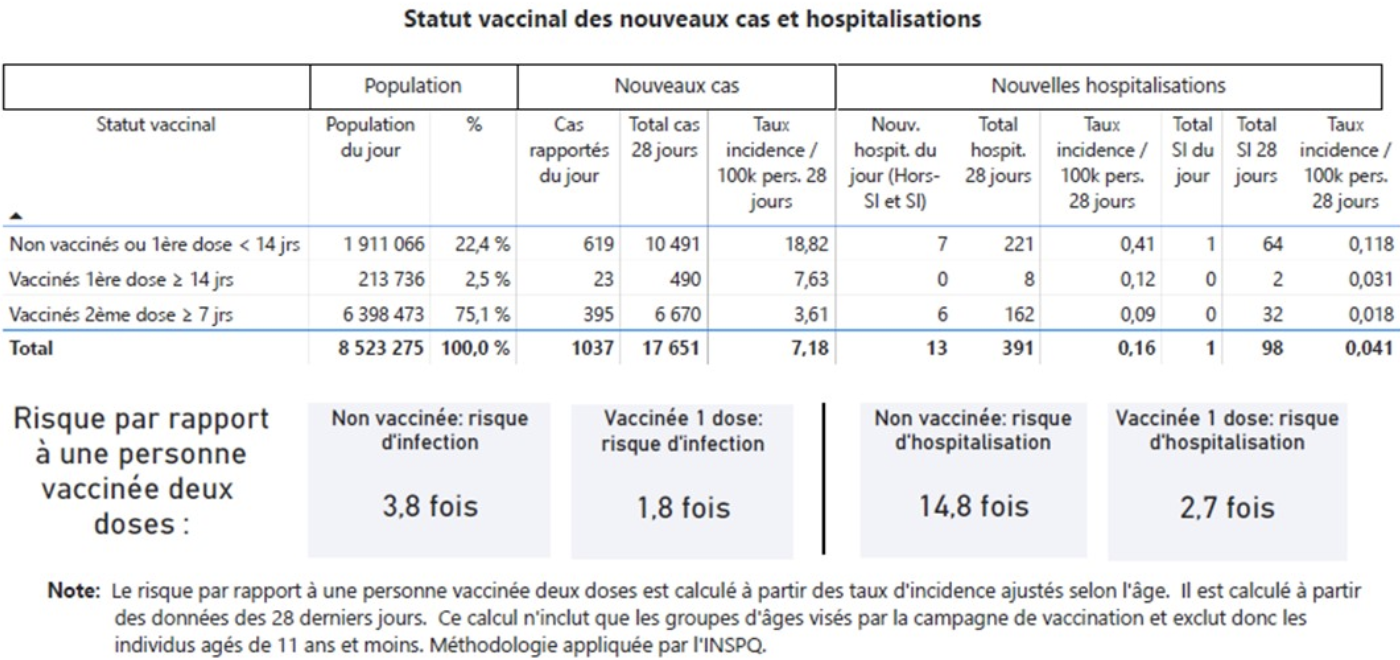 Quebec has recorded 1,037 new cases of COVID-19, the provincial government announced this morning.
That's the biggest single-day case count since May 1.
Thanks to the beginning of inoculation among children five to 11, Quebec's vaccination rate has risen significantly in recent days. Yesterday, the province vaccinated more than 19,000 people, the most since mid-September.
No new deaths were reported.
Some other key statistics from Quebec's latest COVID-19 update:
Since the beginning of the pandemic, Quebec has reported 444,585 cases and 11,571 deaths linked to COVID-19.
NEW: Premier Doug Ford, after briefing from Dr. Kieran Moore, has "contacted the federal government to express my extreme concern about the risks" of new #COVID19 variant. Urges flight ban from countries of concern and reinstatement of point-of-arrival tests.#onpoli
I call on the federal government to follow Britain's lead by banning travel from countries where this dangerous new Covid-19 variant is circulating.
Canada must not repeat the mistake of its open-borders policy at the beginning of the global pandemic. https://t.co/4rMAA4aLLS
Global authorities reacted with alarm on Friday to a new coronavirus variant detected in South Africa, with the European Union and Britain among those tightening border controls as researchers sought to find out if the mutation was vaccine-resistant.
Hours after Britain banned flights from South Africa and neighbouring countries and asked travellers returning from there to quarantine, the World Health Organization cautioned against hasty measures.
Read our full story.
"Quebecers might until recently have been willing to give Premier François Legault and his government the benefit of the doubt that they did their best with the information they had in trying circumstances when Quebec became the epicentre of the pandemic in Canada during the first wave. Most of us understand the strain they must have been under — and the terrible burden of being responsible for keeping Quebecers safe from a lethal and little-known threat.
"But the lack of transparency now calls those efforts into question.
"A full, independent public inquiry is the only way to make sure we get to the bottom of the pandemic response."
Read the latest column by Allison Hanes.
Members of Parliament are able to work from home again after passing a motion Thursday to resume hybrid sittings of the House of Commons, The Canadian Press reports.
Liberals and New Democrats joined forces to pass the motion over the objections of Conservative and Bloc Québécois MPs who had wanted to fully return to normal, in-person operations.
The motion gives MPs the option of participating virtually in proceedings, including votes and debates in the Commons and its committees, starting Friday and continuing until the House breaks for the summer in June.
It passed late Thursday by a vote of 180-140 after the NDP supported the Liberals in putting an end to two days of debate on the matter.
MPs first adopted the hybrid format a year ago, aimed at limiting the number of members in the Commons to avoid spreading COVID-19. But the all-party agreement to allow that format expired last June.
Since Parliament resumed Monday after a five-month hiatus, all but one of the country's 338 MPs have been in the Commons because there was no unanimous agreement to return to hybrid sittings.
The missing MP — Conservative Richard Lehoux — tested positive for COVID-19 on Saturday, two days after attending an in-person Tory caucus retreat.
Government House leader Mark Holland welcomed the return of the hybrid format, saying it will allow Lehoux and anyone else who falls ill or has to isolate due to exposure to the virus to continue working remotely.
In an interview after the vote, he said he hopes unvaccinated Conservative MPs also opt to work from home "and not cause an issue around public health."
"I still would like to know how many there are and I would like the assurance from the leader that he's not going to allow these unvaccinated individuals in the chamber."
Conservative Leader Erin O'Toole has said all his 118 MPs are either fully vaccinated or have a medical exemption. He has refused to say how many are exempt and Holland has questioned the statistical probability that multiple MPs would have valid medical reasons to not be immunized.
The motion specifies that MPs who choose to participate in person must be fully vaccinated or have a medical exemption based on the limited exceptions spelled out by the Ontario health ministry and the National Advisory Committee on Immunization.
Some business groups are crying foul over Quebec's latest attempt to tackle the province's acute labour shortage, saying the measures will leave entire sectors of the economy to fend for themselves as they try to recover from the pandemic.
Read our full story, by Frédéric Tomesco.
Quebec, which had one of the lowest provincial infection rates during much of the fall, now has the third-highest, federal statistics show.
Here's the rate of case growth per 100,000 people over the past seven days, via the federal government's latest epidemiological update.
Quebec's vaccine passport is mandatory for people 13 and older who want to access services and activities deemed non-essential by the provincial government, including bars, restaurants, gyms, festivals and sporting events.
Quebecers can use a smartphone app to prove their vaccination status or simply carry their QR code on paper.
The app is available from Apple's App Store and Google Play.
We have published two guides to the passports – one looks at how to download and set up the app, and another answers key questions about the system, including how, when and why.
You can find more information on the Quebec government's website – one page has details on how the system works, and another has a list of the places where a vaccine passport will be required.
Local health authorities have set up mass vaccination sites across Montreal.
You can book appointments via the Clic Santé website or by phone at 1-877-644-4545.
Quebecers can also visit walk-in AstraZeneca, Moderna and Pfizer vaccine clinics.
Here are the nuts and bolts of getting vaccinated, by Katherine Wilton. Her guide includes the age groups targeted, how to book appointments, and addresses of vaccination centres.
We are regularly updating our list of what services are open, closed or modified in Montreal and Quebec, including information on the curfew and other lockdown measures.
You can read it here.
Montrealers can be screened at test centres across the island.
For other parts of Quebec, check out this page on the Quebec government's site.
Stay informed with our daily email newsletter focused on local coronavirus coverage and other essential news, delivered directly to your email inbox by 7 p.m. on weekdays.
You can sign up here.
ariga@postmedia.com
Read my previous live blogs here.
Sign up to receive daily headline news from the Montreal Gazette, a division of Postmedia Network Inc.
A welcome email is on its way. If you don't see it, please check your junk folder.
The next issue of Montreal Gazette Headline News will soon be in your inbox.
We encountered an issue signing you up. Please try again
Postmedia is committed to maintaining a lively but civil forum for discussion and encourage all readers to share their views on our articles. Comments may take up to an hour for moderation before appearing on the site. We ask you to keep your comments relevant and respectful. We have enabled email notifications—you will now receive an email if you receive a reply to your comment, there is an update to a comment thread you follow or if a user you follow comments. Visit our Community Guidelines for more information and details on how to adjust your email settings.
365 Bloor Street East, Toronto, Ontario, M4W 3L4
© 2022 Montreal Gazette, a division of Postmedia Network Inc. All rights reserved. Unauthorized distribution, transmission or republication strictly prohibited.
This website uses cookies to personalize your content (including ads), and allows us to analyze our traffic. Read more about cookies here. By continuing to use our site, you agree to our Terms of Service and Privacy Policy.