Watch this page throughout the day for updates on COVID-19 in Calgary
With news on COVID-19 happening rapidly, we've created this page to bring you our latest stories and information on the outbreak in and around Calgary.
As Alberta grapples with a fourth wave of COVID-19 at the start of another school year, we're looking to hear your stories on this evolving situation.
Send us your stories via email at reply@calgaryherald.com or by using this online submission forum.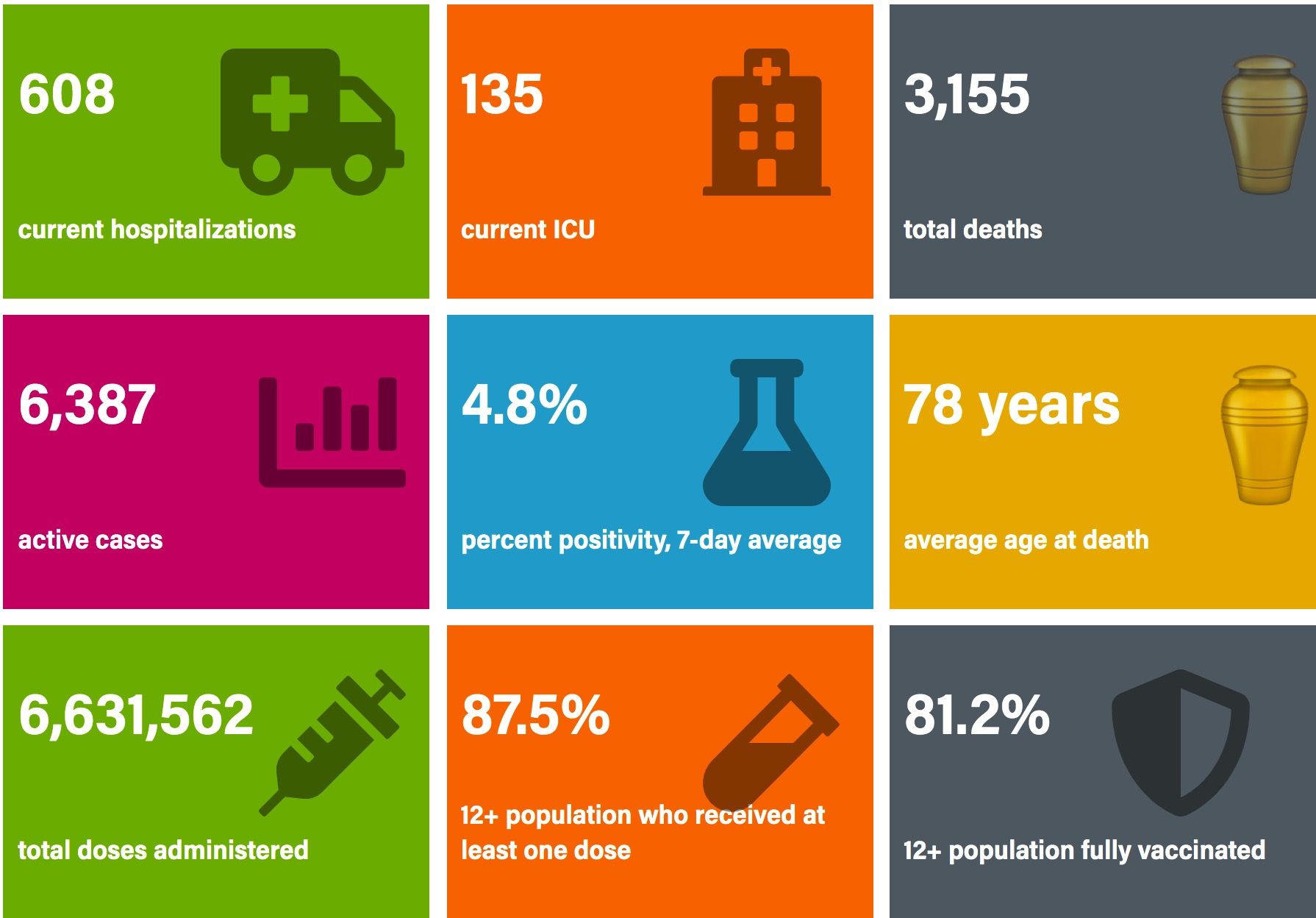 Another 1,300 cases of COVID-19 were reported in Alberta over the last three days, as appointments opened for booster doses of vaccine for some seniors, adults and health-care workers.
With 586 new cases identified on Friday, 430 on Saturday and 284 on Sunday, the number of active cases provincewide remained above 6,000 at 6,387 — only one fewer active case than when data was last released on Friday.
Appointments for third doses of COVID-19 vaccine opened Monday for Albertans age 70 and over, First Nations, Métis and Inuit people age 18 and over, front-line health-care workers who received a second dose within eight weeks of their first and people who received shots of the AstraZeneca or Jansen vaccines — also known as viral vector vaccines.
Read more.
Here are updated COVID-19 numbers for the past three days, posted by Alberta Health:
More Calgarians are optimistic about the city's future than last year, as the city looks to recover from the many impacts of the COVID-19 pandemic.
Over three-quarters, or 76 per cent, of Calgarians said in the annual Fall Citizen Satisfaction Survey that Calgary is on the right track to being a better city 10 years from now, which is an improvement from 70 per cent last fall. A number of the other indicators of civic contentment either improved slightly or remained stable between 2020 and 2021.
Read more.
For the first time in 597 days, fully vaccinated Canadians could drive into the United States for non-essential travel starting at 12:01 a.m. Monday.
That could mean a boon for business at the village on the Canadian side of the busiest border crossing in Alberta, one restaurateur said.
"When you're on the border, part of your business comes from the border traffic, for sure," said Carolyn Dangerfield, who runs the Hills of Home Café alongside her husband, Keith.
"Ours has been not terrible, but we're hoping for better things when it opens."
Read more.
Also see:'Tremendous pent-up demand': U.S. border reopens to Canadian land travellers
Tears flowed, airline officials applauded, and cameras flashed as 1-year-old Kai Patel met his grandmother for the first time on Monday at New York's John F. Kennedy International Airport.
After months of only being able to talk to her grandson via FaceTime, Bhavna Patel was elated to be hugging Kai and holding his hands as he toddled around the terminal.
"There's no words," she said, wiping her eyes. "How can you describe this feeling?"
Bhavna Patel and her daughter Bindiya were two of the passengers on BA001, the first New York-bound British Airways flight leaving Heathrow after the United States lifted COVID-19 restrictions that have barred much of the world from entering for over 20 months.
Read more.
Conservative leader Erin O'Toole held a news conference Monday to slam the possibility of a "radical" Liberal-NDP governing agreement, saying it would run up billions in irresponsible new spending and crater Canada's energy sector.
But O'Toole then had to spend his time chastising Conservative MP Marilyn Gladu for putting out "confusing" information about COVID-19, and deflecting questions about how many MPs in his caucus remain unvaccinated.
It marked yet another day where the party's internal disputes over how to handle vaccine mandates have thrown the Conservatives off their preferred message of attacking the Liberals.
Read more.
Experts say COVID-19 cases are on the rise again in Ontario amid cooling temperatures and the lifting of capacity limits. But the scientific director for Ontario's COVID-19 science advisory group, Dr. Peter Juni, says behavioural changes like avoiding crowds, wearing masks and working from home can help steady the course. The seven-day average for infections has risen to 476 from 362 a week ago.
Quebec is reporting 531 new cases of COVID-19 today and four more deaths attributed to the novel coronavirus. Health officials say COVID-19-related hospitalizations dropped by two, to 225, and there were 48 people in intensive care, a drop of two.
Ontario is reporting 480 new cases of COVID-19 today, along with two more deaths linked to the virus. Health Minister Christine Elliott says 289 of the new cases are among people who aren't fully vaccinated or have an unknown immunization status.
The Manitoba government is offering a new subsidy for businesses and non-profit groups who need to train employees as the COVID-19 pandemic continues. Employers can get up to $2,500 per employee, to a maximum of $75,000, for any training course offered by a third-party.
Global COVID-19 cases surpassed 250 million on Monday as some countries in eastern Europe experience record outbreaks, even as the Delta variant surge eases and many countries resume trade and tourism.
The daily average number of cases has fallen by 36 per cent over the past three months, according to a Reuters analysis, but the virus is still infecting 50 million people every 90 days due to the highly transmissible Delta variant.
By contrast, it took nearly a year to record the first 50 million COVID-19 cases.
Infections are still rising in 55 out of 240 countries, with Russia, Ukraine and Greece at or near record levels of reported cases
Read more.
Here are the confirmed daily cases per million people, as of Nov. 7, according to Johns Hopkins University.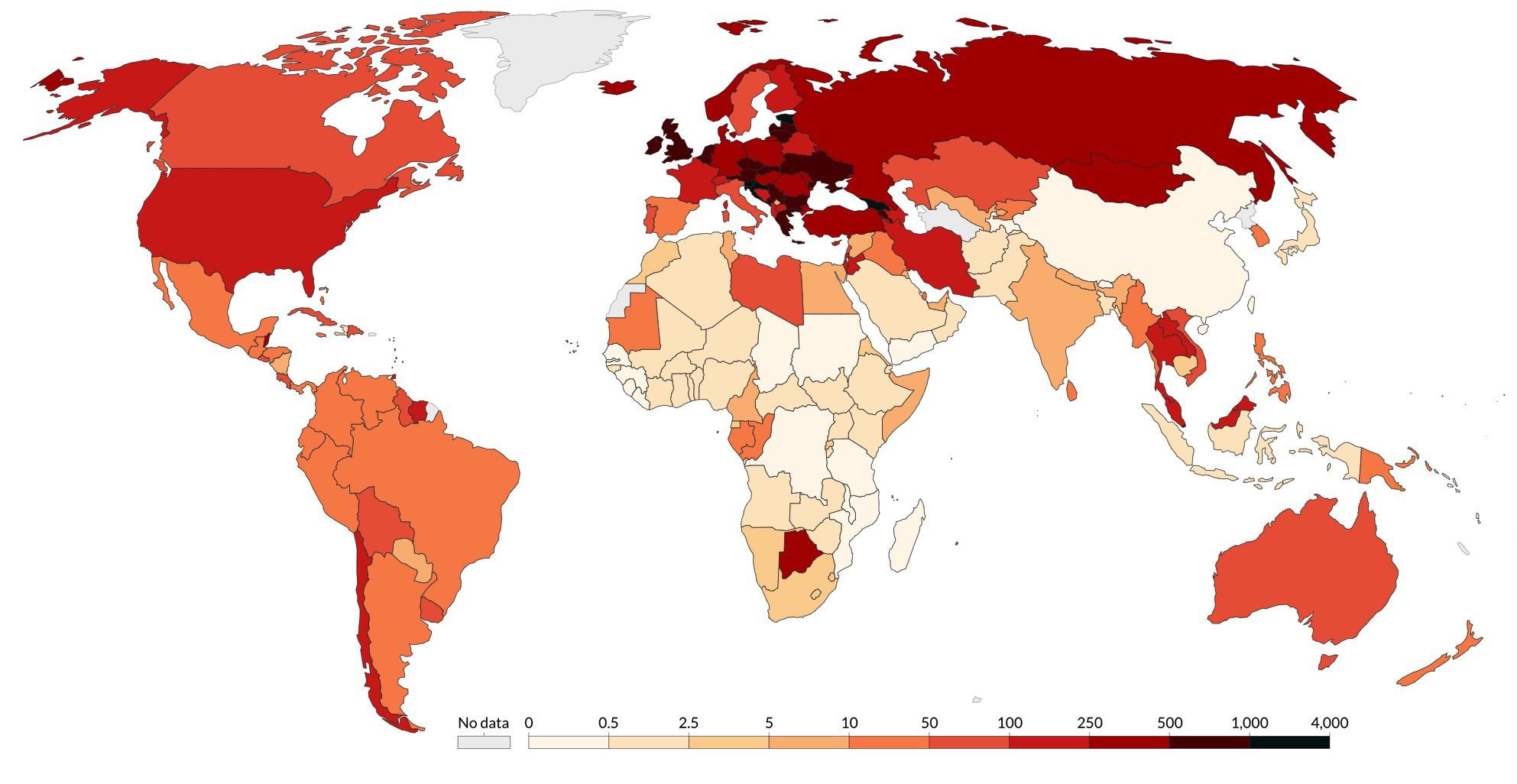 Nearly four dozen people in New Jersey have been hit with terrorism charges as part of the state's campaign to criminalize threats of COVID-19 transmission.
If convicted, the 45 people could each face up to 10 years of prison time and a $150,000 fine, in what defence attorneys of the accused have called a "miscarriage of justice" targeting the poorest and most vulnerable residents of the state.
The first of the terrorist threat charges in New Jersey were brought on March 14, 2020 against a Bergen County woman, who allegedly coughed on an officer during a domestic violence incident.
Read more.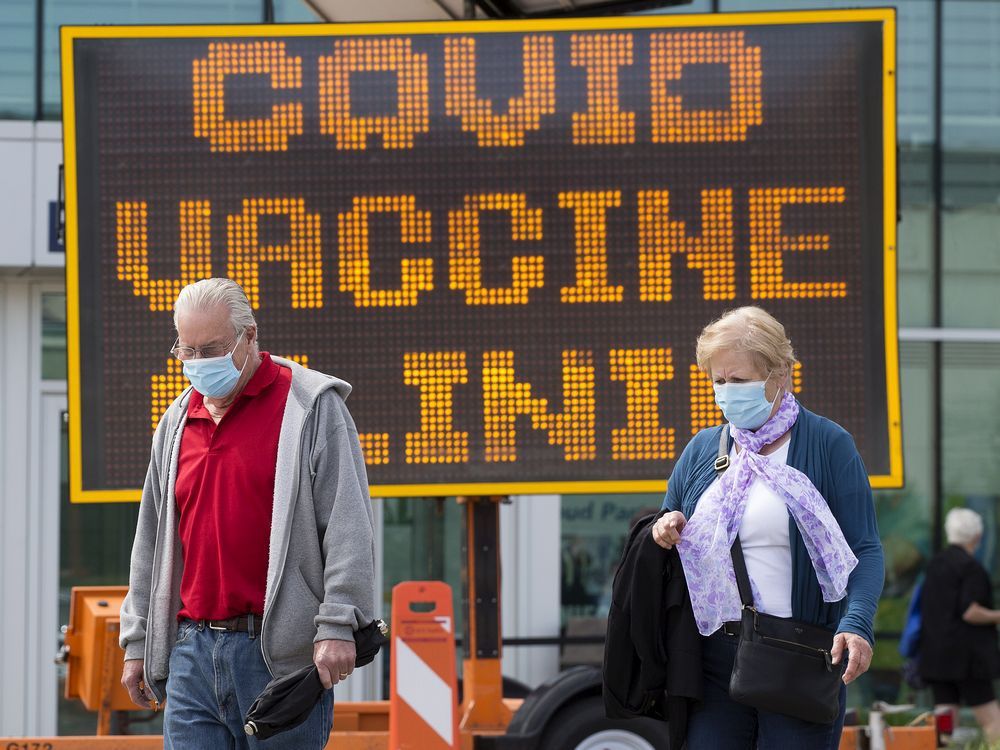 Thirteen establishments across Alberta have received 18 suspensions or closure orders for not complying with the province's COVID-19 Restrictions Exemption Program must recognize they are "not fighting for a common good," stresses an Edmonton health law and policy expert.
According to Alberta Health Services' list of enforcement orders, one establishment in the Edmonton zone, nine in the North zone, and three in the Calgary zone have been issued food permit suspensions or closure orders for not screening patrons for proof of vaccination or a negative COVID-19 test within the last 72 hours.
In the permit suspensions or closure orders, establishments were also offering patrons indoor dining when they should not and in some instances, staff were not wearing masks.
There have been no enforcement orders in the Central or South zones.
Those not adhering to the public health orders are likely listening to misinformation on two fronts, said Timothy Caulfield, a University of Alberta professor and Canada research chair in health law and policy.
Read more.
A B.C. conspiracy theorist who made headlines early on in the pandemic for claims that hot yoga could destroy the COVID-19 virus has died, just days after saying he was ill on social media.
Mak Parhar, 48, who also claimed the Earth is flat, died in New Westminster on Thursday, according to multiple media reports. The B.C. Coroners Service is investigating but has not determined a cause of death.
Condolences poured in on social media from Parhar's supporters on Friday, with some noting that he leaves behind a wife and daughter.
In a now deleted Oct. 22 post on Twitch , Parhar told his followers that he was suffering from fatigue, a cough and body chills but that it was not "CON-VID."
Read more.
Worsening mental health indicators in Alberta children and youth are spurring some doctors to declare a crisis in the fourth wave of the pandemic.
Diagnoses and severity of depression, anxiety and eating disorders have increased by at least 20 percent in the last four months, say doctors, some of whom worry the worst is yet to come.
Although COVID-19 restrictions are looser now than one year ago, mental health issues are being driven by a combination of return-to-school stress, less socializing, excessive screen time and general worry over the pandemic.
Read more.
The number of notifications for serious injuries or deaths of young people increased by 31 per cent compared to last year, the latest annual report from Alberta's Child and Youth Advocate states.
The annual report released last week by Del Graff shows there were 81 notifications received to the Office of the Child and Youth Advocate's (OCYA) between April 1, 2020, and March 31, 2021, regarding serious injuries or deaths of young people — that compares to 62 last year, marking the 31 per cent increase.
The annual report provides a summary of the OCYA's major activities over the last year and looks ahead to how the office plans to strengthen services and advance the rights, interests, and viewpoints of young people. This year, there was a focus on how the COVID-19 pandemic affected young people.
"Alberta's children and youth have shown great courage and adaptability through another challenging year," said Graff.
"Their resilience and hope, to strive for better, even in the midst of a global pandemic is evident. I also want to acknowledge our staff and others who worked hard to provide advocacy in changing times, adapting services so that we could continue to stand up for young people."
Read more.
The COVID-19 pandemic has had an outsized impact on people living with disabilities across the country, according to Christina Sperling with March of Dimes Canada. She said this has led to an increase in isolation and loneliness among a population already facing societal barriers.
"We saw it loud and clear over the course of the last year. People with disabilities were disproportionately impacted," said Sperling, the charity's director of community programs. A recent survey from the organization found 88 per cent of people with disabilities in Canada cite social barriers and isolation as a key issue, with nearly one-third saying they feel depressed or anxious nearly all the time.
"They told us they felt depressed, undervalued, lonely, isolated and they didn't feel like they necessarily had control over their lives. They felt there was a social stigma and discrimination against them, and they felt that even more so over the pandemic."
Read more.
Sign up to receive daily headline news from the Calgary Herald, a division of Postmedia Network Inc.
A welcome email is on its way. If you don't see it, please check your junk folder.
The next issue of Calgary Herald Headline News will soon be in your inbox.
We encountered an issue signing you up. Please try again
Postmedia is committed to maintaining a lively but civil forum for discussion and encourage all readers to share their views on our articles. Comments may take up to an hour for moderation before appearing on the site. We ask you to keep your comments relevant and respectful. We have enabled email notifications—you will now receive an email if you receive a reply to your comment, there is an update to a comment thread you follow or if a user you follow comments. Visit our Community Guidelines for more information and details on how to adjust your email settings.
365 Bloor Street East, Toronto, Ontario, M4W 3L4
© 2022 Calgary Herald, a division of Postmedia Network Inc. All rights reserved. Unauthorized distribution, transmission or republication strictly prohibited.
This website uses cookies to personalize your content (including ads), and allows us to analyze our traffic. Read more about cookies here. By continuing to use our site, you agree to our Terms of Service and Privacy Policy.